Defense Innovation Days 2021
We strengthen the defense sector and bolster our national security by connecting, partnering with, and convening leaders across industry and government. Our members represent some of the most exciting, cutting-edge work in undersea technology, cybersecurity, and defense technologies.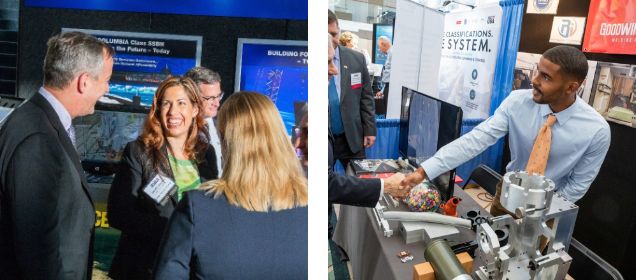 SENEDIA was established in 2002 to coordinate efforts by defense industry leaders and elected leaders to prepare for the Base Realignment and Closure (BRAC) of 2005. We proved our essential role as an advocate for the region's defense industry, which remains robust today. More than two decades later, we continue to play that role as advocate and connector, enabling the development and transition of critical technologies, fostering thought leadership, and facilitating workforce development for the industry.

30 August to 31 August 2021
Virtual Event
Thank you to our Sponsors!
Platinum Sponsors
Silver Sponsors
Bronze Sponsor
Agenda:
Day 1 – Monday, 30 August 2021
10:00 – 11:30 –A National Conversation on Defense
Senator Jack Reed, Chair, Senate Armed Services Committee 
Secretary of the Navy Carlos Del Toro 
Small Business Administration Administrator Isabella Casillas Guzman  
11:30 – 1:00 – A National Conversation on Climate and Defense
Senator Sheldon Whitehouse, Senate Environment and Public Works Committee  
 Mr. Joseph Bryan, Special Assistant to the Secretary of Defense (Senior Climate Advisor) 
Mr. Richard Kidd, Deputy Assistant Secretary for Defense for Energy and Environment  
Day 2 – Tuesday, 31 August 2021
10:00 – 11:30 – A National Conversation on Cybersecurity and Defense
Congressman Jim Langevin, Chair of the House Armed Services Subcommittee on Cybersecurity, Innovative Technologies, and Information Systems  
Mr. Chris Inglis, U.S. National Cyber Director  
11:30 – 1:00 – A National Conversation on Foreign Affairs and Defense
Congressman David Cicilline, House Foreign Affairs Committee  
Mr. Thomas Donilon, Former US National Security Advisor  
Walter Berbrick, DLP, Director of Arctic Studies, Naval War College  
Defense Innovation Days brings together companies who are developing cutting edge innovations  with policymakers who are helping steer the nation's defense strategy.  We give policymakers an opportunity to speak to those companies, big and small, and give the companies insight into future acquisition opportunities. 
The event facilitates a forum where defense policymakers and business leaders  can engage with and learn from one another.